Code
Dimensions (width x depth x height)
Gsm / paper
Packing
Bag price
from 200 bags
Bag price
from 1000 bags
Bag price
pallet
B1
175 x 90 x 230 mm
70 gr/m2 gładki
A' 500
0,24 pln
0,21 pln
0,19 pln /10.000 szt.
B2
220 x 110 x 250 mm
70 gr/m2 gładki
A' 350
0,28 pln
0,25 pln
0,23 pln /8000 szt.
B3 plus
250 x 140 x 300 mm
70 gr/m2 gładki
A' 300
0,36 pln
0,32 pln
0,29 pln /6000 szt.
B3
250 x 150 x 320 mm
80 gr/m2 gładki
A' 300
0,50 pln
0,45 pln
0,40 pln /6000 szt.
B4
250 x 150 x 410 mm
80 gr/m2 gładki
A' 250
0,53 pln
0,47 pln
0,42 pln /5000 szt.
B5
320 x 160 x 430 mm
100 gr/m2 gładki
A' 200
0,63 pln
0,56 pln
0,50 pln /5000 szt.
The prices are given net.
SCREEN PRINTING
printed inscription in Sico colours: PLN 0.20 per one-side colour
printed inscription in Pantone colours, gold or silver: PLN 0.25 per one-side colour
matrix: PLN 60.00 per colour (one-off fee, no additional costs are charged for additional printing)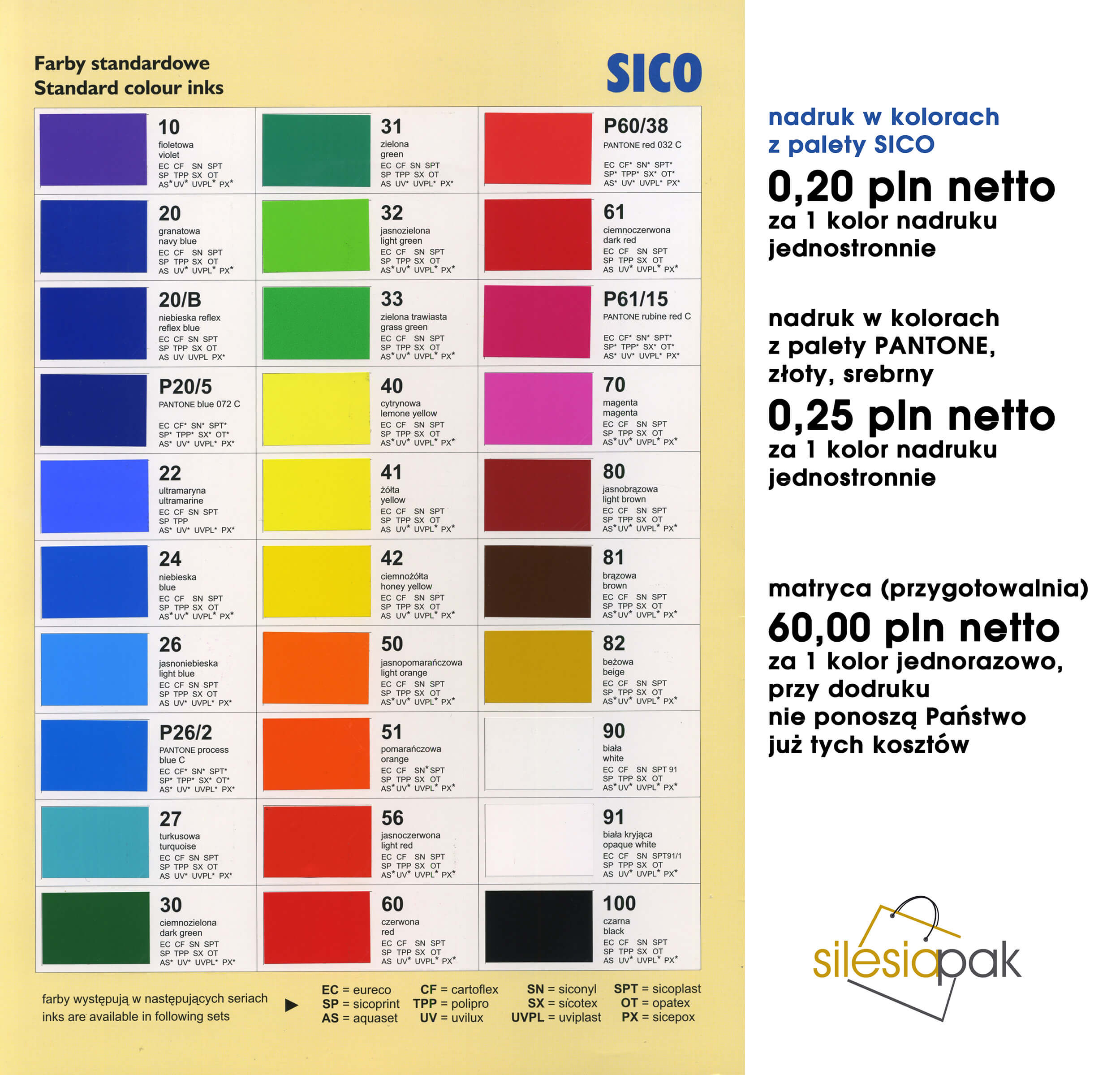 Specification of paper bags:
paper flat handle is stuck inside the bag and additionally strengthened with double paper insert

paper used to produce the bags: kraft with strengthened structure, highly resistant to stretching and tearing, made of virgin fibres, thanks to which it does not decompose as fast as waste paper

given an industrial production technology (80,000 bags per hour), i.e. bag sticking and folding by a machine, the carrying capacity of a bag is up to 15 kg and bags may be classified as cheap paper bags

our paper bags are approved by the Polish Institute of Hygiene for food contact, therefore they may be used as catering bags, shopping bags, food bags

bags may be printed with any graphic element by:

a) screen printing: water (environment-friendly) paints, up to 200 bags. Delivery within 3 – 7 business days

 b) flexographic printing: from 5,000 or 10,000 bags, depending on bag format (pricing on a case-by-case basis). Delivery within 3 – 28 business days

after we receive a design and materials from you, we prepare printing visualisation (free of charge), which means that our bags may be used as advertising bags.